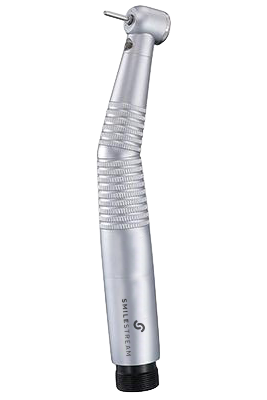 HydroStream HighSpeed Mini LED with Quick Connect
Original price
$201.60 USD
-
Original price
$201.60 USD
$201.60 USD
-
$201.60 USD
Current price
$201.60 USD
Packaging: 1/box
The HydroStream HighSpeed dental handpiece adopts push type bur change. This method features quicker, more convenient and time saving bur assembly and disassembly, thus saving time for doctors.
The auto-chuck push button spindle is equipped with internal precise mini spring. The mini spring will apply preload on the chuck, so that the connection of bur will be tighter and tighter to ensure that the bur will not be loose during application.
The integrated bur adopts exquisite machining craft. It is produced in one piece, thus the assembling gap can be reduced to ensure precision and firmness. Then the torsion of the handpiece can be indirectly improved while the noise and vibration can be reduced. The whole handpiece has no welding spot, so there will be no possibility of water and air blocking caused by rust which can directly solve the problem of poor atomization.
The unique three point water spray and fog system can generate tornado type water mist around the bur, providing perfect cooling effect for the bur which is preforming quick cutting.
Specifications:
| | |
| --- | --- |
| Warranty: | 1 Year |
| Spray System: | Triple Port |
| Coupling Type: | QuickConnect (4-Hole) |
| Bur Type: | Friction Grip |
| RPM Range: | 350,000-400,000 RPM |
| Autoclave Temp: | 275℉ (135℃) |
Handpiece Maintenance Manual: View Here
Handpiece Repair Request: View Here
Delivery Time
Estimated delivery time: 2-4 business days