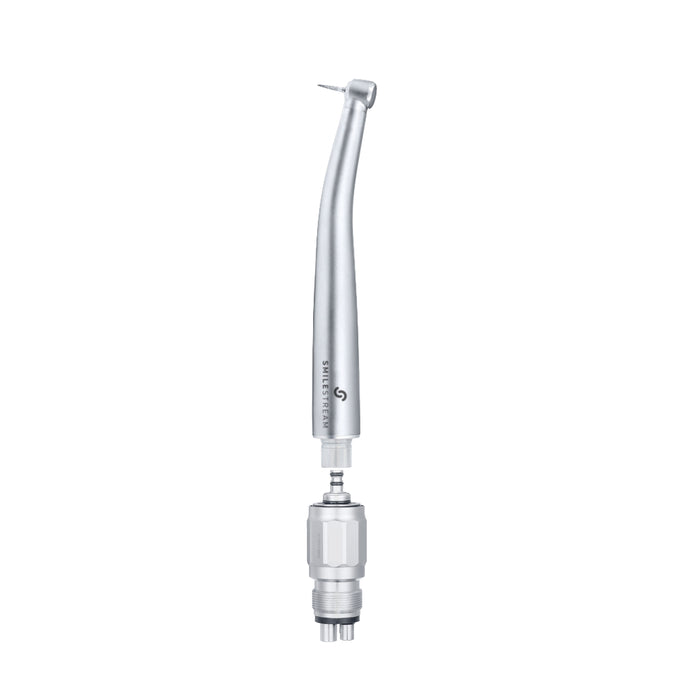 Speed S4 - Mini Head HighSpeed with Quick Connect
Original price
$468.72 USD
-
Original price
$468.72 USD
$468.72 USD
-
$468.72 USD
Current price
$468.72 USD
Packaging: 1/box
8.9mm Mini Head allows for more flexibility in the treatment area. Especially with teens and children.
New spring structure design on the push button spindle to secure bur during operation and avoid bur vibration.
Normal operating decibels of handpieces is 70dB. The new Speed HighSpeed handpiece operates at lower than 60 dB making for a much quieter experience for both dentist and patient.
Zero retraction system avoids impurities, blood and viruses from being sucked into the cartridge when the handpiece stops working. This increases the service life of bearings and cartridge.
Quick-stop system stops the handpiece in one second compared to most handpieces that stop in 3-4 seconds potentially injuring the patient when removing the handpiece from the treatment area.
The turbine is made with German miniature bearings to prolong the life span of the handpiece and increase performance.

Speed Mini is equipped with short shank burs used for children's teeth. With a short shank bur specifically designed for children's teeth, as well as a small 8.9mm head, operation is more flexible and treatment time is reduced.

NSK style 4-Hole QuickConnect included
Specifications:

| | |
| --- | --- |
| Warranty: | 2 Year |
| Working Pressure: | 33.3psi - 36.2psi (0.23MPa - 0.25MPa) |
| Spray System: | Single Port |
| Coupling Type: | 4 Hole (Midwest) Quick Connect compatible with NSK |
| Bur Type: | Friction Grip |
| RPM Range: | 380,000-450,000 RPM |
| Autoclave Temp: | 275℉ (135℃) |
Handpiece Maintenance Manual: View Here
Handpiece Repair Request: View Here
Delivery Time
Estimated delivery time: 2-4 business days